Percentage of people trusting various types of banks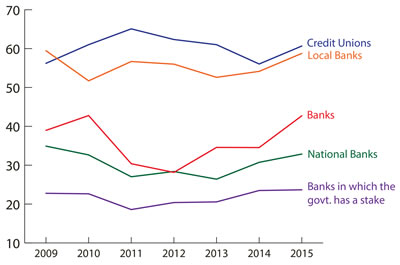 While investors' trust in stocks of banks around the world has declined rapidly in the last several months, the general public's trust in banks continues to show moderate and stable increases. According to the latest Chicago Booth/Kellogg School Financial Trust Index, the American public's trust in banks last month reached its highness level since the financial crisis.

The co-authors, Paola Sapienza, Donald C. Clark/HSBC Chair in Consumer Finance Professor at Kellogg School of Management at Northwestern University, and Luigi Zingales, Robert C. McCormack Professor of Entrepreneurship and Finance and the David G. Booth Faculty Fellow of the University of Chicago Booth School of Business, conducted the survey of 1,025 financial decision makers between December 22 and December 30.

"Shares of European and American banks tumbled and lost more than one quarter of their value this year. Markets are scared by the eurozone economy, exposure to the energy sector and China, and problems in banks' balance sheets," said Sapienza. "But these fears are not currently reflected in the public's trust in banks."

"The Financial Trust Index peaked in December 2015,"' said Zingales. "As in previous surveys, we see that the public's trust is highest in credit unions and in their local banks, and significantly lower in the national banks".

Unlike the public's trust in banks, which has improved steadily over the last three years, the public's trust in large corporations has not changed and remains significantly lower.